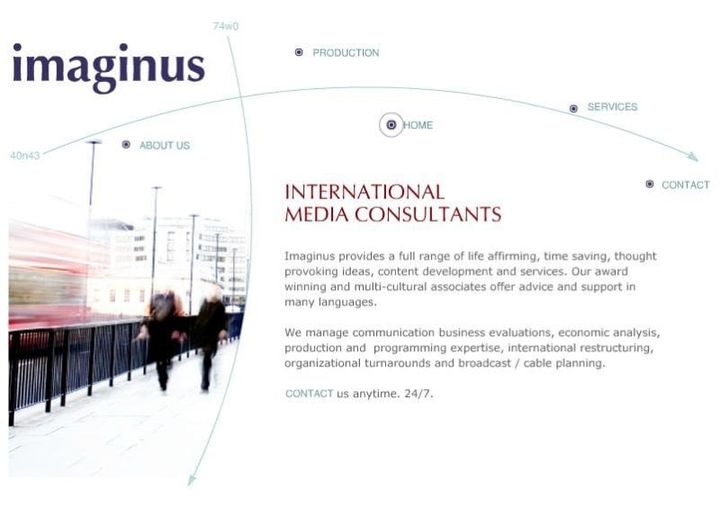 ABOUT US | MEDIA | PRE-PRODUCTION | PRODUCTION | WHAT WE DO |
Imaginus Media provides a full range of business affirming, time saving, thought provoking ideas, for content development and programming services. Our award winning and multi-cultural associates offer advice and support in many languages.
We manage communication business evaluations, economic analysis, production and programming expertise, international restructuring, organizational turnarounds and broadcast / cable planning.
IMAGINUS MEDIA
147 City Island Station NYC, New York, 10464
212 300 7492
Imaginus.Media@gmail.com

---
ABOUT US
Media consultants with major market communication, news, information, broadcast and cable business development, along with sports, entertainment and public affairs production expertise. We provide assistance with a clear vision of creative management methods, teambuilding and results.

More...

---
PRODUCERS, DIRECTORS & CREWS FOR:
Image Pieces
Content Design
Instructional videos
TV commercials
Infomercials
Video News Releases
Entertainment/ News / Sports / Public Affairs
Documentaries
Websites
---
PRE-PRODUCTION
Assembling your ideas
Script development
Storyboarding
Product research
Site Surveys
Talent acquisition
Training
---
PRODUCTION
Single or multi camera crews
Live remotes
Lighting
Aerial and underwater
Jib, Crane, steady-cam
Live Satellite Uplinks
Graphics
---
What We Do
Our global consultants offer multiple specialties. These include content development, media management, IT, production, programming, communications, public relations, news, marketing, and law. However diverse our expertise, we're routinely hired for these reasons.
1) EUCATIONAL TRAINING. Sometimes, especially in areas involving new media and technologies, a company's senior executives and management staff will need to be trained. They may need to learn a new software package or even a new way of thinking. Often it is much more cost-effective for a company to hire an outside expert, or a consultant, to train them rather than putting someone on the full-time payroll.
2) BUSINESS PRACTICES. Then things just aren't going according to plan, a company management team isn't always the most objective source of information difficult for anyone to admit what they're doing wrong, or sometimes to even figure that out. That is where consultants come in. They can be more objective in their findings since they don't have anything directly at stake with the company's success or failure. The consultant is generally brought in to identify the problem and to help the company's management team work out a resolution strategy.
3) PRODUCT SERVICES. Companies can always keep highly specialized experts on staff to evaluate every product or service they want to offer. It often makes more sense to hire an outside consultant. Some examples would be to hire a Marketing consultant to carry out market research for a new product, an IT consultant to fully evaluate and independently test a new software product, or to hire a legal consultant to answer legal concerns in regards to a new product or service being offered.
4) INTERNAL PROBLEMS. Hiring consultants for internal problem resolution is routine. Examples could range from having consultants handle recruitment for new company positions to handling major disputes between employees, the management, or even stockholders. The consultant would serve as an unbiased party whose interest is to reach a mutually agreeable solution to the problem, large or small.
5) CRISIS RESOLUTION. The three types of consultants most likely to be hired to handle a company crisis are legal consultants, public relations consultants, and sometimes management consultants. This type of consulting work is reserved for major crises within a company or organization, such that current staff alone wouldn't be able to contain the situation adequately. It could range from a major lawsuit to an explosion or other disaster at the company, to finding out that a company's product is unsafe and needs to be recalled. These consultants are basically called in for damage control.
---
Que hacemos
Nuestros consultores globales ofrecen múltiples especialidades. Estos incluyen desarrollo de contenido, gestión de medios, TI, producción, programación, comunicaciones, relaciones públicas, noticias, marketing y derecho. No importa cuán diversa sea nuestra experiencia, habitualmente se nos contrata por estos motivos.
1) CAPACITACION. A veces, la gerencia de una empresa o el personal debera recibir capacitacion, especialmente en areas que involucren la utilizacion de nuevas tecnologias. Es posible que necesiten aprender a utilizar un nuevo software o incluso una nueva forma de pensar. Usualmente contratan a un experto de afuera de la institucion, un consultor, para que la capacitacion resulte, segun costo-beneficio, para una empresa, mejor que poner a alguien en la nomina permanente.
2) PRACTICAS EMPRESARIALES. Cuando las cosas no estan yendo de acuerdo con lo planificado, la gerencia no siempre resulta ser la fuente de informacion mas objetiva. Es dificil para cualquiera personal poder admitir que estan haciendo lascosas mal, o a veces hasta darse cuenta de ello. Es aqui donde los consultores entran en accion, ya que pueden ser mas objetivos en sus conclusiones dado que, directamente, no tienen nada en juego respecto del exito o fracaso de la empresa. El consultor es, generalmente, contratado para identificar el problema y ayudar a la gerencia a encontrar una estrategia de resolucion.
3) PRODUCTOS O SERVICIOS. Las empresas no siempre pueden tener a expertos altamente especializados dentro de su staff para evaluar cada producto o servicio que desean ofrecer. Generalmente les resulta mucho mas razonable contratar a un consultor externo, como a un consultor en marketing, para llevar a cabo un estudio de mercado para un producto nuevo; un consultor en IT para realizar una evaluacion completa e independiente de un software determinado; o un consultor en derecho para contestar a algunas preocupaciones legales respecto de un nuevo producto o servicio a ser ofrecido.
4) PROBLEMAS INTERNOS. La contratacion de consultores para la resolucion de problemas internos es una cuestion de rutina. Algunos ejemplos van desde hacer que un consultor se haga cargo de la contratacion de personal para nuevos puestos de trabajo dentro de la empresa a manejar disputas de importancia entre las empleados, gerentes o, incluso, accionistas. El consultor actuaria como una parte objetiva cuyo interes es llegar a una solucion, acordada entre las partes, a un problema de gran o de poca magnitud.
5) RESOLUCION DE CRISIS. Los tres tipos de consultores mas comunmente contratados para manejar una crisis empresarial son los consultores legales, los de relaciones publicas y, a veces, gerenciales. Este tipo de trabajo de consultoria se encuentra reservado para crisis de tal magnitud dentro de una empresa que el personal no podria contener la situacion adecuadamente. Podria variar desde una demanda de importancia a una explosion u otro desastre en la organizacion, a averiguar que un producto de la empresa no es seguro y debe ser desechado. Este tipo de consultores es usualmente contratado para controlar problemas.
---
IMAGINUS MEDIA
147 City Island Station NYC, New York, 10464
212 300 7492
Imaginus.Media@gmail.com